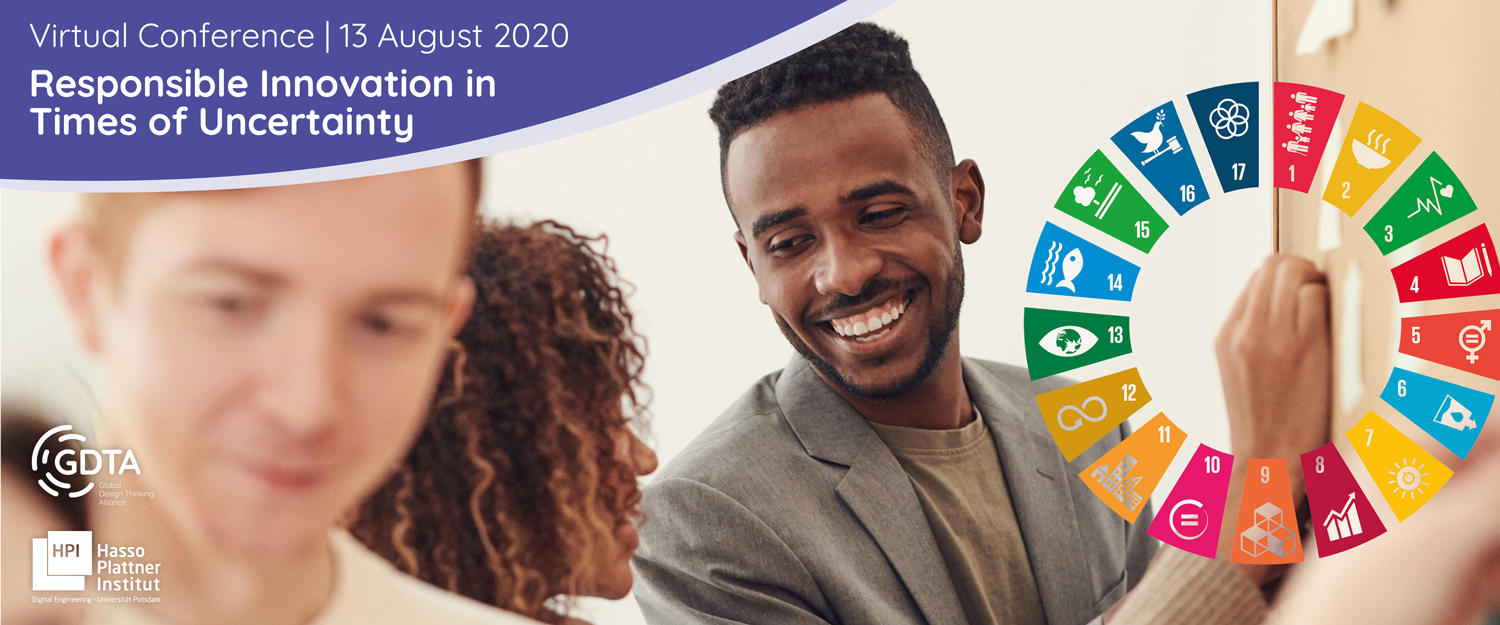 GDTA Annual Conference: Responsible Innovation in Times of Uncertainty
The Global Design Thinking Alliance (GDTA) and the Hasso Plattner Institute (HPI) invite you our online conference "Responsible Innovation in Times of Uncertainty", which will take place on August 13th, 2020, from 9:00 am to 8:00 pm (CEST).
In a world that is being reshaped by societal disruptions and crises, the demand for fast innovations solving urgent problems is rising. Businesses, the public sector, and non-governmental organizations need to accelerate and streamline processes, work more effectively, and make faster decisions. But how can we make sure that innovations that are developed in times of uncertainty consider social, ethical, environmental and cultural aspects alongside technical solutions? How can we foster strategic cooperation between citizens, businesses, politics and research to combine expertise and create solutions with a positive impact?
At GDTA's annual conference, we bring together international experts from companies, public institutions, NGOs and research to discuss responsible innovation in times of uncertainty. Join our global online conference on August 13th with keynotes, panels and interactive sessions to exchange ideas and develop new concepts for accountable and human-centered innovation.
How to join our online conference
We look forward to meeting you in a virtual event setting and would like to give you an overview of how you can join our conference:
Register via our registration form provided by Hasso Plattner Institute.
Follow the instruction on the bottom of the registration confirmation email with the link to the event platform Hopin, where we kindly ask you to create an account to be able to access the platform.
After creating your account for Hopin and getting your ticket, you are ready to participate in our conference on August 13th! Our team looks forward to welcoming you and is happy to guide you through the platform with the help of our chat moderators.
If you already would like to get a glimpse into the platform, watch this "How to use Hopin as an attendee" video.
Speakers
We are happy to announce our speakers:
Prof. Arthur Caplan, Professor of Bioethics at New York University Langone Medical Center and the Founding Director of the Division of Medical Ethics
Dr. Satyan Chari, Program Director, CEQ Bridge Labs, Clinical Excellence Queensland
Martin Fassunge, Senior Development Manager at SAP
Mei Lin Fung, Chair & Cofounder, People Centered Internet / Chair Impact Network / Chair IEEE IC Social Impact Measurement
Dr. Ing. Konstantinos Karachalios,

Managing Director, IEEE-Standards Association

Dr. Joann Halpern, Director of Hasso Plattner Institute, New York
Mario Herane, Vicerrector Universidad Mayor, Santiago de Chile
Prof. Ali Hessami, Innovation Director, Vega Systems / Chair & Technical Editor of IEEE P7000 Standard, IEEE Standards Association
Prof. Dr. Sarah Spiekermann-Hoff, Head of the Institute for Information Systems and Society at Vienna University of Economics and Business (WU Vienna)
Prof. Jeanne Liedtka, Prof. of Business Administration at The Darden Graduate School of Business Administration, University of Virginia
Renata Landa Lopez, Program Lead at the HPI School of Design Thinking
Natalie Mathieson, RBC Design Thinking Program Coordinator, Western University
Dato Lee Yew Meng, Director of d.school Malaysia and GDTA General Secretary
Darran Meister, Director at Thompson Centre for Engineerng Leadership Innovation, Western University

Prof.

Evonne Miller,

Director, QUT Design Lab, Queensland University of Technology



Dr. Hoda Mostafa, Associate Professor of Practice and Director of the Center for Learning and Teaching at the American University in Cairo
Dr. Claudia Nicolai, Academic Director at the HPI School of Design Thinking
First Admiral Baharudin Wan Md Nor, Royal Malaysian Navy, Submarine Force Commander
Matthew Parkinson, Professor for Mechanical Engineering & Director of The Learning Factory at Pennsylvania State University
Richard Perez, Founding Director at the Hasso Plattner School of Design Thinking (d-school) at the University of Cape Town
Juliana Proserpio, Co-Founder of Echos Innovation Lab
Peter Rabley, Partner at Place Fund / East African Community
Alejandro Rodriguez, Associate Department Director Industrial Design at Tecnológico de Monterrey
Prof. Dr. Linlin Shui, Head of the Design Thinking Innovation Center at the Communication University of China
Honorable Hjh Nancy Shukri, Minister of Tourism, Arts and Culture of Malaysia
Dr. Klaus Suwelack, New Business Development & Innovation Management, Janssen-Cilag
Dr. Hinrich Thoelken, Director Climate and Energy Policy and Digital Transformation at German Federal Foreign Office
Prof. Uli Weinberg, Director of the HPI School of Design Thinking & GDTA President
Roman Yosif, Executive Director, Government Lab Chile
Our agenda
We will announce more details on our agenda and speakers soon. The indicated times refer to the Central European Summer Time. Check more time zones.
Our virtual conference will move around the world on August 13th. It kicks off with a contribution from our members d.school Malaysia and Communication University of China at 9:00 am (CEST) / 3:00 pm (MYT/CST), then move to Central Europe and South Africa and finish with the last program block from 6:00-8:00 pm (CEST) / 10:00-12:00 am (EDT) in Northern America.

Register for our online conference
We look forward to welcoming you at our virtual conference. If you have any questions, please reach out to info@gdta.org!