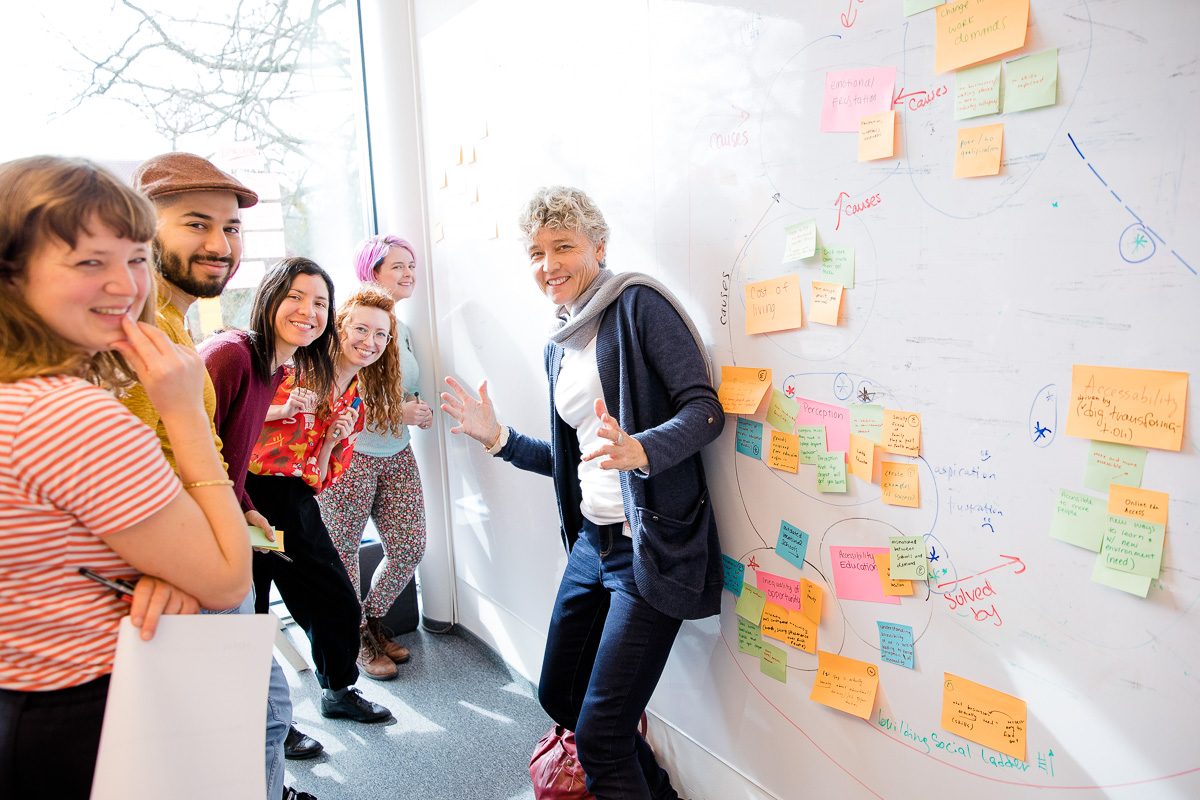 The Global Design Thinking Week (GDTW) is an introductory Design Thinking study program designed by the HPI School of Design Thinking in Potsdam in cooperation with GDTA member institutions.
This Introductory program offers students a first-hand experience of Design Thinking as a human-centered approach to solve complex innovation problems with a creative mindset in diverse teams. This human-centered approach is combined with the perspective of technological feasibility (how can ideas be technically implemented or how can technology ignite the innovation process?) and business viability (how can we transform ideas into new business designs?).
The program consists of five different workshops that offer deep dives into the most important aspects of the Design Thinking approach.
Designing for Global Impact
This Global Design Thinking Course focuses on framing innovations. Human-centered solutions will fail short on implementation if they don't incorporate finding new answers to the question of how to make a change on the systems-level. Here, we frame our Design Thinking approach with the Sustainable Development Goals (SGDs). The teams will design solutions for a global problem and will focus on how a solution can be translated to different local contexts to make an impact.
From Inspiration to Ideas (2022)
This GDTW workshop focuses on the first stages of the Design Thinking process, the so-called creative reframing where we aim to gain a better understanding of a given problem context by design-led research and inspirations from other sources. We are focusing on empathy as a key principle: to better understand users' in their context and to explore their (future) latent needs, desires and wishes. Potential fields of opportunity are identified and described from a human-centered perspective. Additionally, the teams are developing and building new ideas and solutions through empathy prototyping.
Teamed Leadership (March 2021)
This GDTW workshop focuses on team work and team dynamics of diverse and cross-functional teams. The diverse backgrounds of team members are an important factor for high-performing teams. The teams will work on a Design Thinking challenge related to this topic and at the same time we will dive into the questions of how to analyze, assess and enhance your individual and your team's potential with regard to skills, team roles & communication, and leadership.
In March 2021, six international student teams worked on a design challenge about marketing a new partnership built on special blockchain-Design Thinking programs while at the same time learning about team development. Find out more about the workshop and the ideas developed by our Design Thinking teams in the review by the HPI D-School Potsdam.

Human-Centered Design and Strategic Futures (September 2021)
This GDTW workshop combines the nearby-future perspective of human-centered design with the long-term-future perspective of strategic innovation. In Design Thinking we are not only looking for the next quick-win with a new product, we also want to create the future of an organization. When designing new solutions for these (digital) transformation processes, we have to incorporate both perspectives: How do customers imagine the nearby future? How do we envision future scenarios? Our focus here is in combining both approaches when we are creating innovative ideas because this enables us to shape our strategic future.
What makes the GDTW program global?
The program team:
The HPI D-School Potsdam is running the GDTW program with our international community of Design Thinking coaches and we are regularly teaming up with international partner universities and institutions from our global network.
Students will have the opportunity to learn from experiences with our colleagues from the d-schools in the United States (Stanford University), South Africa (University of Cape Town), Malaysia (Genovasi) and China (CUC Beijing) and how others use Design Thinking in practice.
The participants:
Besides students from the Hasso Plattner Institute in Germany, we are particularly inviting international participants to apply for these workshops to form multidisciplinary teams and to work together in international teams with a project partner on a real design challenge.
Program structure and application requirements
The HPI D-School runs these five workshops regularly and is currently offering three GDTWs per year. You have to apply for each GDTW workshop separately.
You are invited to participate in more than GDTW workshop. If you are interested in more than one topic/focus, you can apply for several GDTWs. There is no fixed sequential order of the GDTW workshops.
Students and recent graduates from all disciplines and universities are invited to apply for the GDTW workshops.
Applications for the GDTW in September 2021 will open in the middle of May 2021.
To learn about the application process and how to become a project partner, please visit the website of the HPI D-School.