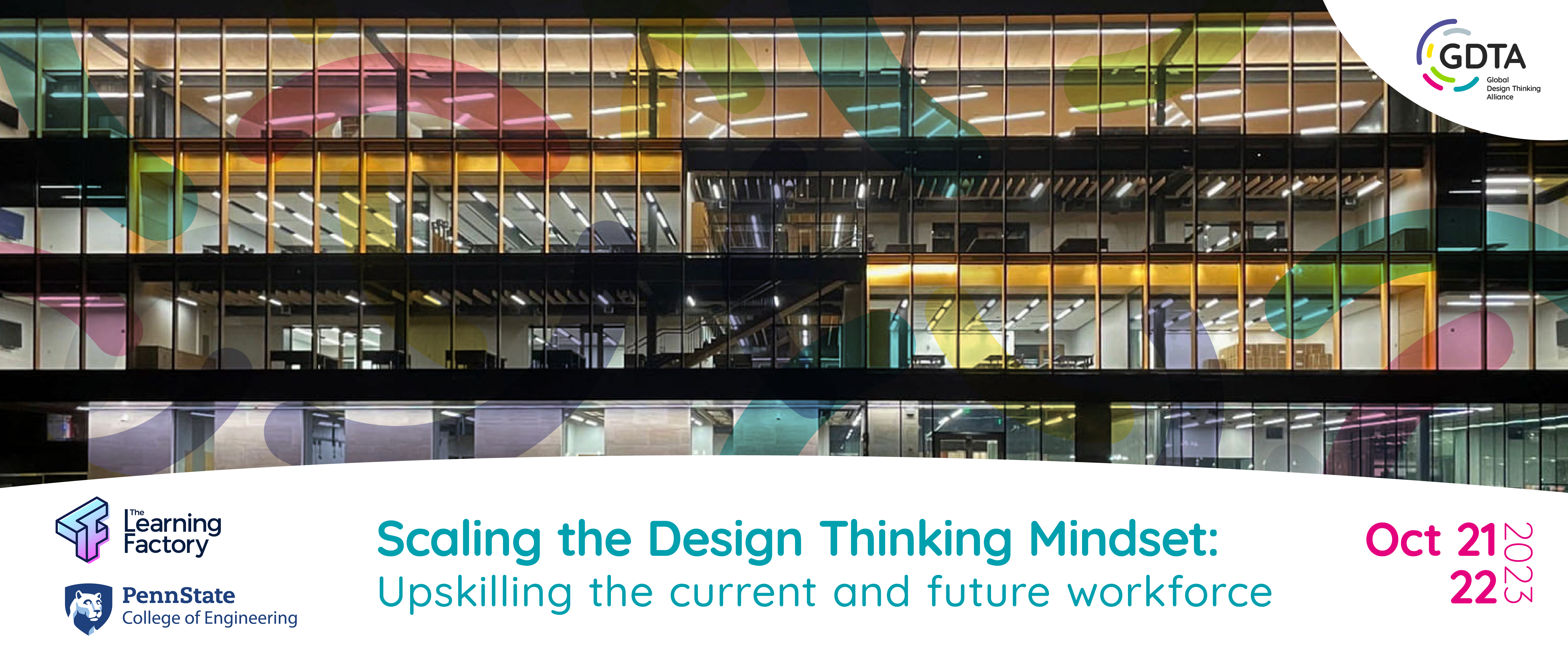 Global Design Thinking Alliance Conference 2023 @PennState University
We are excited to host you for the 2023 annual conference of the Global Design Thinking Alliance (GDTA) on October 21st and 22nd at PennState University.
Format
The conference will be in a hybrid format: presentations and workshops will take place in our new Engineering Design and Innovation Building for our on-site participants and live-streamed to those joining us remotely.
Registration
Please register and indicate whether you will join us in-person or remotely. In an effort to minimize costs for participants, there will be no registration fee–the Learning Factory will cover the on-site event costs. We recognize that without a financial commitment to attend you might register and then not show up without telling us. Please don't do that! If you need to cancel for some reason please let us know. You can register for both on-site and remote participation here.
Program
We have an exciting program for you! The conference is scheduled for all day on Saturday, October 21. We invite everyone to stay for a free Design Thinking workshop on Sunday, October 22.
If you're interested in participating in Session 1, submit a proposal. All attendees are invited to create a poster to share in our Flavors of Design lunch.
09:00 – 09:15
Welcome and Introduction
09:15 – 10:00
Carlye Lauff, PhD – faculty member in Product Design at the University of Minnesota
10:15 – 11:45
Session 1 – Global perspectives on design thinking
Panel discussion: John Ochsendorf, Lakshmi Rao, Matt Parkinson; moderated by Uli Weinberg
Sharon Guaman-Quintanilla, Escuela Superior Politecnica del Litoral, Ecuador
12:00 – 13:30
Poster Session / Flavors of Design Submit a Poster!
13:45 – 15:15
Session 2 – Global perspectives on design thinking + Technologies that enable scaled design thinking

Maria Stashenko, Design Thinking Center, Almaty, Kazakhstan

Nadia, Ukraine

Jess Menold, Center for Immersive Devices, USA

Meg Handley, School of Engineering Design and Innovation, USA

15:30 – 17:00
Hands-on Prototyping Workshop + Prizes
17:00 – 18:00
Reception
Post-Conference Design Thinking Combine
In the USA the professional sports teams hold "Combines", meetings where the players gather to show off their skills for teams and scouts. Following the conference (on Sunday, October 22) we will offer an opportunity for our Design Thinking Coaches and friends to participate in an event like this. Jess Menold and her team will work with coaches and participants from industry to give everyone a chance to show off what they do best. Each participant will receive a private report card of their strengths and opportunities for improvement. Participation in this event (normally $40k US for a team) will be free! Space is limited.