GDTA Spotlight event series
We are happy to invite you to our online event series "GDTA Spotlight" – an opportunity for global Design Thinkers to gather online to discuss important issues from our community.
At the "GDTA Spotlight" series of online events, we want to take the time to gather our members and everyone from the global Design Thinking community in an informal setting to share experiences and discuss relevant questions around the themes Design Thinking, digitalization, (virtual) collaboration and many more.
Sign up for our GDTA events mailing list and never miss any event invitations!
Up next: GDTA Spotlight "Design your life" with Joann Halpern, Director, Hasso Plattner Institute, New York
We are happy to invite you to our next GDTA Spotlight session, which will take place on October 21st, 2021 at 4:00 pm (CEST) via Zoom. We look forward to welcoming our speaker Dr. Joann Halpern, Director of the Hasso Plattner Institute, New York.

Joann will will guide us through a "Designing Your Life" workshop, which has been adapted from Bill Burnett and Dave Evans' book on this subject. She will cover the following topics: reframing negative thoughts, fixed/growth mindsets, well-being, flow, Energy-Engagement Maps, Work View/Life View Reflections, coherence, and Odyssey Plans. She will also discuss some of the opportunities and challenges that exist when delivering this workshop online.
Register for the Spotlight session.
About our speaker: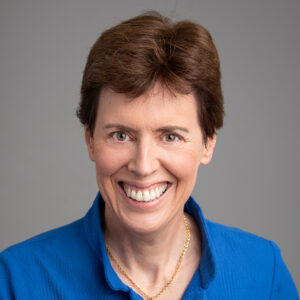 Dr. Joann Halpern is the director of the Hasso Plattner Institute, New York and a professor of International Education at New York University. From 2009-2017 she was the founding director of the German Center for Research and Innovation, New York, which was created as a cornerstone of the German government's initiative to internationalize science and research. Dr. Halpern received her B.A. from Dartmouth College, her M.A. from Harvard University, and her Ph.D. from New York University. She is a recipient of the Harvard University Award for Distinction in Teaching as well as scholarships and fellowships from the German Academic Exchange Service, Fulbright Association, Robert Bosch Foundation, and the National Endowment for the Humanities. Dr. Halpern took part in a summer program at UR in 1988 and has since then stayed in contact with the International Office.
GDTA Spotlight – Design Thinking Africa
At our GDTA Spotlight session on July 29th, Hoda Mostafa and Reham Niazi from the The American University in Cairo as well as Richard Perez, Phuthehi Masilo and Lucille Roberts from the Hasso Plattner School of Design Thinking at UCT talked about "Building a global virtual d-school: Co-creation and collaboration".
There are many academic institutions who have limited resources to develop and offer design thinking teaching and learning to their students. Yet the expertise and intent exist in small pockets of passionate educators within these institutions. The American University in Cairo and the Hasso Plattner School of Design Thinking at the University of Cape Town have recently run an Afrika wide Design Thinking programme that aimed to provide access to under-resourced universities by building both coach capacity as well as access for their local students to participate in Design Thinking programmes. Furthermore AUC recently prototyped a hybrid model with new and interesting models partnering with GDTA.
This session shone a spotlight on these seeds of co-creation and opportunities provided by GDTA collaboration as well as invited members and attendees to contribute ideas in a short facilitated activity.
GDTA PowWow #11 with

Tecnológico de Monterrey
At this GDTA session on June 15, 2021, Alejandro Rodriguez, Associate Director for Industrial Design Department at Tecnológico de Monterrey, and his team talked about "Education and Design Thinking: How Tecnológico de Monterrey is applying Design Thinking across all their campus, education and innovation."
Alejandro Rodríguez, Design Thinking Initiative – National Leader. Alejandro is School of Architecture, Design and Art's professor at Mexico City, since 2016 he is the responsible to coordinate all design thinking activities (professors, academics, training and consultancy).
GDTA PowWow #10 with The Learning Factory at Penn State University
At our online session on May 18, 2021 Matt Parkinson, Professor and Director of The Learning Factory, College of Engineering at Penn State University, and Jessica Menold, Assistant Professor of Engineering Design at Penn State University, talked about the Design Thinking process that contributed to the development of a new university building, dedicated to Design Thinking and prototyping. Moreover, they shared insights into recent research projects examining, for example, Eastern vs. Western approaches to design, ideation, and prototyping.
Matt Parkinson is a Professor of Engineering Design and Mechanical Engineering at Penn State University where he also directs the Bernard M. Gordon Learning Factory and the Center for Research in Design and Innovation. At the Learning Factory he coordinates the largest client-sponsored multi-disciplinary capstone design program in the world, with nearly 250 projects a year. His research efforts in the OPEN Design Lab focus on the design of artifacts, tasks, and environments which are robust to human variability (e.g., anthropometry, capability, and preference).
GDTA PowWow #9 with Observatory "Design Thinking for Business" at Politecnico di Milano
At the GDTA PowWow on April 30th, 2021 Claudio Dell'Era, Associate Professor in Design Strategy and Director of the Observatory "Design Thinking for Business" of the School of Management at Politecnico di Milano talked about "Transformations in Design Thinking: from Creative Ideating to Critical Reframing".
In today's world, characterized by an accentuated dynamism, uncertainty and complexity, humans and organizations are frequently overwhelmed by the abundance of products and services. This creates the paradox of choice: the assumption that more choice means better options and greater satisfaction is significantly challenged by contemporary society, where less choices can greatly reduce the anxiety and busyness of our lives. Hence, organizations are looking for methodologies and practices aimed at properly identifying the problem to tackle, interpreting and framing it. Design Thinking has frequently been associated with creative ideating, but reframing is an activity that requires criticism in interpreting and defining the addressed problem.
Claudio Dell'Era is Associate Professor in Design Strategy at the School of Management – Politecnico di Milano, where he serves also as Co-Founder of LEADIN'Lab, the Laboratory of LEAdership, Design and INnovation. He is also Director of the Observatory "Design Thinking for Business" of the School of Management –Politecnico di Milano. Research activities developed by Claudio Dell'Era are concentrated in the areas of Design Thinking and Design Strategy. He has published more than 100 chapters in edited books and papers published in conference proceedings and leading international journals such as Entrepreneurship Theory and Practice, Journal of Product Innovation Management, Long Range Planning, Technology Forecasting and Social Change, R&D Management, International Journal of Operations & Production Management, Industry & Innovation, Creativity and Innovation Management, Business Horizons, and many others.
GDTA PowWow #8 with The Design Thinking School at the Lucian Blaga University of Sibiu
Remember the experiments and challenges you faced while starting a new project? Before 2019, Lucian Blaga University of Sibiu didn't dream a small idea would turn into so many new research projects, competitions to encourage students to innovate and the first D-School in Romania. This all happened thanks to the donation received from Mr. Hasso Plattner and 2020 did not stop the plans. At the GDTA PowWow on March 18th, 2021, Raluca Bârsan, Adminmaker and Teaching Professional at Lucian Blaga University of Sibiu, talked about "ULBS: From a lab idea to excellence in research and a D-School" and shared ULBS' next steps as well as ideas and best practices.
About our speaker:
Raluca Mihaela Bârsan, Adminmaker at Lucian Blaga University of Sibiu
Before working in the public system, Raluca had several roles in continuous improvement departments in the private sector. At Lucian Blaga University of Sibiu her passion for education clicked with her experience in problem solving and starting February 2021, Raluca is the first employee of the first D-School in Romania. She volunteers as a teacher, works part time in the R&D Department of the University and aims to finish her PhD in the near future 🙂 .
GDTA PowWow #7 with Western University: Design Thinking Education without a D.School
Western University is a large, public university in Canada with 11 faculties and schools. Since 2013, they have slowly built up the presence of Design Thinking across the university. And, then came COVID which became a challenge and an opportunity. Darren Meister, Associate Dean, Ivey Business School, Western University; and Natalie Mathieson, Design Thinking Program Coordinator, Thompson Centre for Engineering Leadership and Innovation, Western University shared the growth of Design Thinking Education at Western and some future plans.
About our speakers: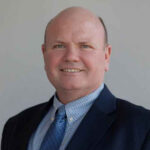 Darren Meister, Associate Dean, Ivey Business School
Darren has been involved in Western's design thinking efforts since 2013. Having done his engineering degree in Systems Design in the 1980s, it came as a great surprise to him when he realized that that wasn't how everyone was taught to think about problems. He's led undergraduate and graduate programs in Engineering and Business and currently is responsible for Faculty Development at Ivey Business School. And he's still pushing the Design Thinking agenda at Western consistently.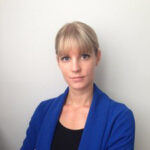 Natalie Mathieson, Design Thinking Program Coordinator, Thompson Centre for Engineering Leadership and Innovation
Natalie holds a Master of Arts from the University of Toronto, and has taught film, theatre, and communication at various universities in Ontario, Canada. Passionate about service design, Natalie spent a decade working with children and youth in safe haven shelters and hospitals. Natalie joined Western in May 2020 to help animate design thinking practice in the university community.
Session #6 with Jeanne Liedtka, UVA Darden School of Business
In this session, Jeanne Liedtka, United Technologies Corporation Professor of Business Administration, University of Virginia – Darden School of Business, discussed her upcoming book "Experiencing Design: The Innovator's Journey".
This book was created for all those who want to become design thinkers by truly experiencing it. The authors Jeanne Liedtka, Karen Hold, and Jessica Eldridge point out that the innovative potential of design can only be embraced by changing the ways we think and act. That contains the process of becoming a more real and authentic version of ourselves. Therefore it is necessary to dive deep into design experiences to effect positive impacts not only in yourself, but also in your team and organization. With this guide you will be accomplished successfully through different process phases in your personal design thinking journey.
About our speaker:
Jeanne Liedtka, United Technologies Corporation Professor of Business Administration, University of Virginia – Darden School of Business
Jeanne M. Liedtka is a faculty member at the University of Virginia's Darden Graduate School of Business and former chief learning officer at United Technologies Corporation, where she was responsible for overseeing all activities associated with corporate learning and development for the Fortune 50 corporation, including executive education, career development processes, employer-sponsored education and learning portal and web-based activities.
At Darden, where she formerly served as associate dean of the MBA program and as executive director of the Batten Institute, Jeanne works with both MBAs and executives in the areas of design thinking, innovation and leading growth. Her passion is exploring how organizations can engage employees at every level in thinking creatively about the design of powerful futures.
Her current research focuses on design-led innovation in the government and social sector, as does her most recent book, Designing for the Greater Good. Her previous books include: The Catalyst: How You Can Lead Extraordinary Growth (winner of the BusinessWeek best innovation books of 2009); Designing for Growth: A Design Thinking Tool Kit for Managers (winner of the 1800 CEO READ best management book of 2011) and its accompanying field guide, The Designing for Growth Field Book: A Step by Step Guide; The Physics of Business Growth: Mindsets, System and Process; and Solving Business Problems With Design Thinking: 10 Stories of What Works.
Session #5 with Shenkar
College of Engineering, Design and Art
In this session, Dr. Assaf Krebs, Dr. Yigal David, and Daniel Altman of GDTA member institution Shenkar College of Engineering, Design and Art talked about: "Intermediate spaces – Two perspectives on engineering, design, Design Thinking, and life itself. From Sound Engineering to Human Surfaces".
About our speakers: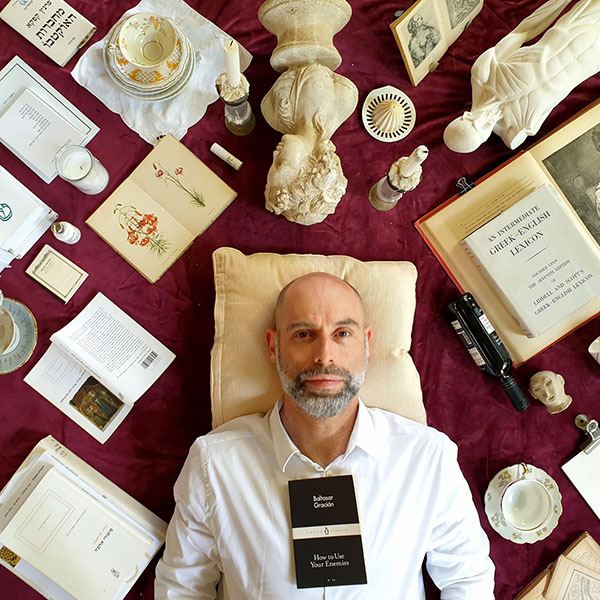 Dr. Assaf Krebs, Co-Director of Design Factory Shenkar
Dr. Krebs holds a B.Des in Visual Communication (Bezalel Academy of Art and Design), and a further BA, MA and a PhD in Classical Studies (Tel Aviv University). He has been working in the field of visual communication for many years and served as a Senior Art Director in Future Brand Israel. Krebs has participated in various art and design exhibitions in Israel and abroad. In recent years he has been part of Material Flow Collective, a group of 12 designers working together on new ecological design thinking methods (Organism 144, the group collaborative design installation will be presented at the Tel Aviv Biennale of Crafts and Design in March 2021). Krebs' academic research focuses on skins and surfaces as a metaphor and epistemological turn in philosophy, psychoanalytic theory and cultural criticism. He is an MC researcher in COST (CA19129) – Decolonizing Development: Research, Teaching and Practice; a researcher in Fish Skin Lab: Developing Fish Skin as Sustainable Raw Material for the fashion Industry (Horizon 2020); and in Theology in the Age of Anthropocene (The Van Leer Jerusalem Institute).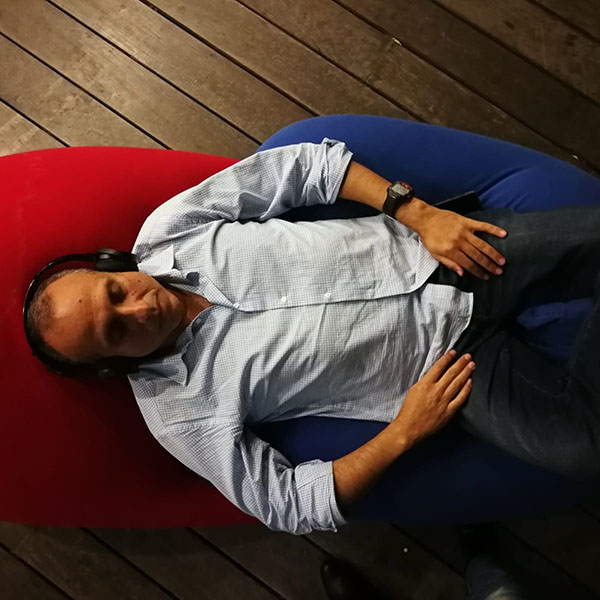 Dr. Yigal David, Co-Director of Design Factory Shenkar
Yigal David has been acting for more than two decades in several VP and CEO positions in various Israeli telecom corporations. He is specialized in corporate strategy and product development. Yigal, a Shenkar's Industrial Engineer, holds an MBA and Doctorate degree, both from Middlesex University London. Today, he is a faculty member and a lecturer in the School of Industrial Engineering at Shenkar. His research interests include Entrepreneurial Innovation, Product Development, Emerging Technologies, Voice Sentiment Analysis and Consumer Behaviour.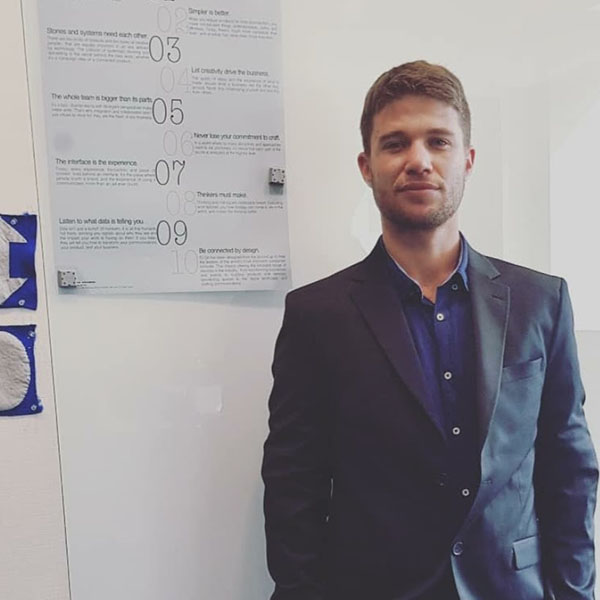 Daniel Altman, Director of Development and Strategy, Open Innovation 
Daniel is a former chairperson of "Shenkar Students' Union" and the co-founder of "Dots – Student Entrepreneurship Club". He is a Shenkar alumnus, holding an M.Sc & B.Sc from the "School of Industrial Engineering and Management", with a specialization in Innovation,  Entrepreneurship, and Creative leadership. In the past two years, his position was, Shenkar's ex-president (Former Minister of Education) Prof. Yuli Tamir's, Advisor for development & strategy. Daniel co-initiated Shenkar's special projects such as Design Factory Shenkar, SUGAR Network, Global Jamweek, Sustainability R&D Center, and more.
Session #4 with Arne van Oosterom, Design Thinkers Academy
After 16 years of running projects using Design Thinking, teaching it, living it, Arne came to some important conclusions. During this session he shared these moments of clarity and darkness and left participants optimistic, energised and proud to be part of the Design Thinking movement.
About Arne van Oosterom:
Arne van Oosterom is founder and partner at DesignThinkers Academy. The academy is part of DesignThinkers, a global innovation agency network, which Arne co-founded in 2006. DesignThinkers currently has teams in more than 20 countries.
Arne is internationally recognised as a pioneer and thought leader in the emerging fields of service design and design thinking. Successfully merging business thinking and creative thinking. He is coaching and working on global projects with organisations like Coca Cola, L'Oreal, BOSCH, Cartier, SAP, Philips and ING Bank. Arne supports those organisations in building and leading creative teams. Arne founded the Design Thinking Conference and developed service design thinking coaching and training programs like the DesignThinkers Bootcamp and Creative Leadership Program.
He has been teaching at several universities as well as facilitating in-house training sessions and masterclasses.
Session #3 with d-school Cape Town
In a discussion with GDTA President Uli Weinberg, Richard Perez, Founding Director of the Hasso Plattner School of Design Thinking (d-school) at the University of Cape Town, and Faculty Members Luke Doman and Mark Jackson talked about how they adapted their programs during Covid-19, using technology that is accessible for all students, and shared their vision for the future of the d-school at UCT.

About our speaker:
Richard is the founding director of the Hasso Plattner School of Design Thinking (d-school) at the University of Cape Town. Funded by Hasso Plattner the d.school is a unique offering in South Africa that leverages the d.school network of both Potsdam, Germany and Stanford, United States. It is the only African School of Design Thinking that is officially affiliated with Stanford and Potsdam, drawing on the unique expertise, research and networks of these two institutions. Previous to this Richard spent 3 years at the City of Cape Town as the Director for World Design Capital 2014, where he had the unique experience of working to embed a culture of design-led innovation in a government administration. Before that he spent 10 years as a partner and director in an award-winning Cape Town-based New Product Design agency. He is also an external examiner for UCT's Engineering Design course and spent a number of years lecturing UCT Architecture students on the Theory of Structures. Richard's education includes a Mechanical Engineering degree from the University of Cape Town, a Masters in Innovation Design Engineering from the Royal College of Art and Imperial College of Science and Technology (London) and an Executive MBA (awarded with Distinction) from the UCT Graduate School of Business.
Session #2 with Linlin Shui, Communication University of China
In a discussion with GDTA president Prof. Uli Weinberg and other GDTA members, Linlin Shui, Head of the Design Thinking Innovation Center at the Communication University of China (CUC), shared impressions from China during the Covid-19 pandemic and explained how CUC build a prototype for an online Design Thinking course in only two weeks.
About our speaker: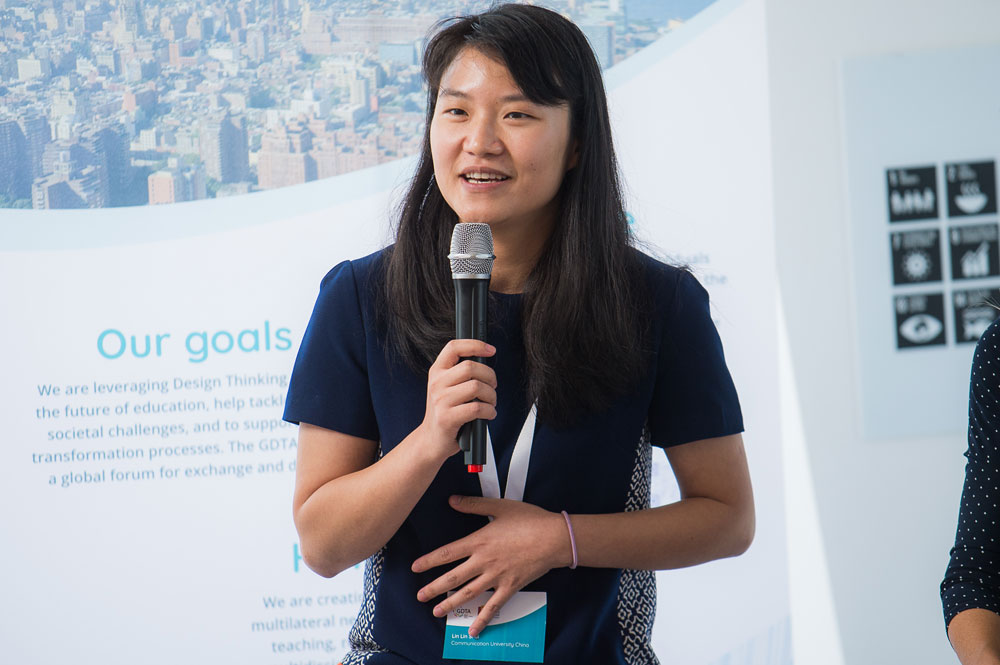 Shui Linlin, Head of the Design Thinking Innovation Center at the Communication University of China in Beijing (CUC) and Courtesy Professor at the Center of Design Research at Stanford University
Shui Linlin started her interdisciplinary, innovation-driven design thinking journey at the HPI D-School in 2009. When she came back to her own country, she took on the challenge of setting up the first design thinking school in China. Now she is the director of Design Thinking Innovation Center (DTIC) @ Art Faculty, Communication University of China.
Mrs Shui has the background of computer science and digital games design. And she is an expert of "Online Game Content Review Committee" of the Chinese Culture Ministry, as well as the director of China Association of Social Art. She was selected as one of the "Beijing Young Talents" in 2014.
Session #1 "Echos between Australia and Brazil – Creating virtual Design Thinking learning experiences"
In a discussion with GDTA President Uli Weinberg, Ricardo Ruffo and Reinaldo Campos from Echos Innovation Lab in Brazil shared how they are creating online Design Thinking learning experiences between Australia and Brazil.
About our speakers:
Ricardo Ruffo – Global CEO and founder at Echos  
Ricardo Ruffo is a born entrepreneur, educator, speaker and explorer. He is the founder and global CEO of Echos, an independent innovation lab driven by design and its business units: School of Design Thinking, helping to shape the next generation of innovators in 3 countries, Echos – Innovation Projects and Echos – Ventures. Naturally curious, love gets ideas flying off the paper. He always tries to see things from different angles to enact better futures. In his free time, spend exploring uninhabited places around the world surfing.
Reinaldo Campos – Partner & Head of Learning Experiences at Echos
Partner at Echos, where he has been Head of Learning Experiences since 2015, Reinaldo participated in several teams as a consultant and instructor in innovation and training projects with corporate clients in the media, health, finance, education and civil construction, among others. Among the main projects is the Google News Initiative Design Accelerator with media and communication companies in Asia-Pacific.