In 2022, we have many reasons to celebrate: Students have been learning at the HPI School of Design Thinking for 15 years now, and we have been connecting the international Design Thinking community with the Global Design Thinking Alliance (GDTA) for five years.
But that's not all: For another highlight this year, we look to Cape Town, South Africa. The Hasso Plattner d-school Afrika at the University of Cape Town is opening the first building designed specifically for a Design Thinking school.
To properly celebrate, reflect and discuss these events and the impact of Design Thinking on business and society, HPI D-School Potsdam and Hasso Plattner d-school Africa will host the Global Design Thinking Festival in September and October 2022.
The festival month kicks off with the "Design Thinking Impact Conference: 15 Years of Design Thinking at HPI", which will take place on September 15 and 16, 2022, at the Hasso Plattner Institute in Potsdam and online. Over two days, we will review the highlights of Design Thinking activities at HPI over the past 15 years with alumni, project partners, researchers, and customers of the HPI Academy. We will discuss how we can continue to shape business and society with the help of the innovation approach.
We will also kick off a four-week hybrid Global Design Thinking Challenge during the Potsdam conference. We invite aspiring change-makers worldwide to be active participants in our Global Design Thinking challenge to create ideas and solutions with social impact. This event will allow you to work in internationally diverse teams, in hybrid formats, together with a global partner. The challenge is open to anyone worldwide who has a passion for social change and sustainability. The winning teams will have the opportunity to present their most inspiring solutions at the d.confestival in Cape Town.
Because Cape Town will host the grand finale of our festival month with the d.confestival 2022 from October 12-14, 2022. d.confestival is a unique event that brings together international innovators and Design Thinkers from business, society, education, and research. The event merges elements of a conference with the cultural atmosphere of a festival. In inspiring presentations, vibrant discussions, and interactive workshops, the global Design Thinking community will exchange learnings and develop new business, education, public policy, and social innovation concepts. HPI hosted the first two d.confestivals in 2012 and 2017. This time we shift the focus to Africa as the Hasso Plattner d-school Afrika at UCT will host the third d.confestival in their new home.
Register for the d.confestival in Cape Town
Overview of all events: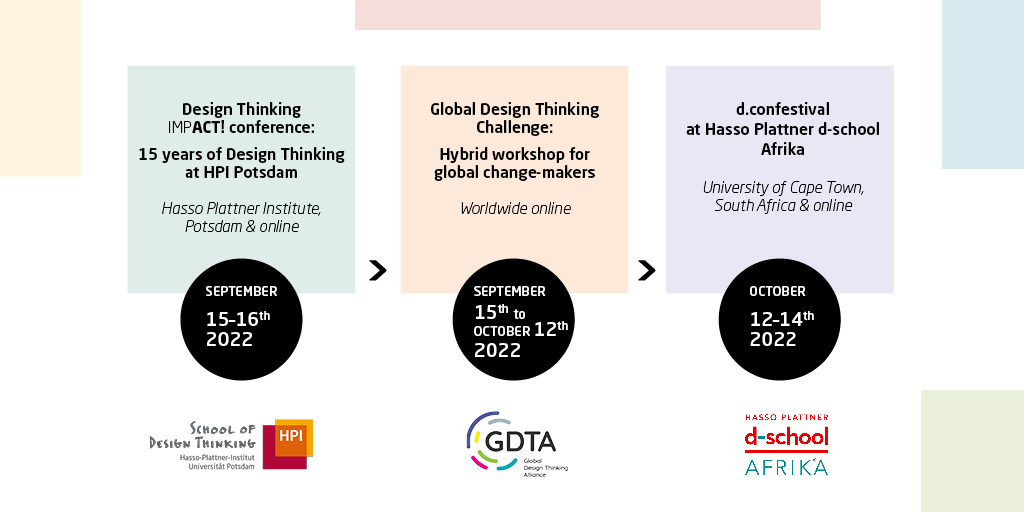 In spring, we will publish more information about the registration and program on the Global Design Thinking Festival website. Sign up for our newsletter and follow our social media channels to never miss any news about the Global Design Thinking Festival.
Become a partner
Would you like to present your company to the international Design Thinking community? We offer several partnership opportunities: Download our sponsorship booklet and contact us!
Review 2017
Get an impression of the d.confestival 2017 on our website.
We look forward to celebrating these milestones with you later this year!